Make ahead breakfast items are a huge must for me. I can only motivate myself so much in the morning. If I find myself missing a carb on my breakfast plate, I love being able to grab a quick and healthy muffin. But they also need to taste good. My fiance is incredibly picky and I had to go through several variations before we found
the one
.
These are not as healthy as maybe having a banana instead, but they are perfect for you have have a craving for something sweet but don't want to ruin your daily caloric intake or your clean eating habits. I love knowing exactly what went into my food and homemade options are always the best!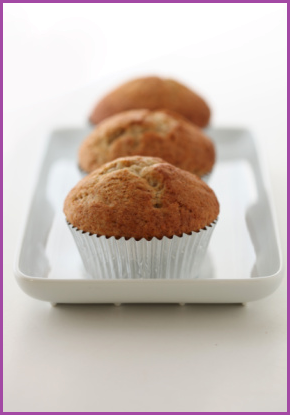 Ingredients:


1 1/2 Cups Whole Wheat Pastry Flour

1 Teaspoon Baking Soda

1/2 Teaspoon Sea Salt

1 Teaspoon Cinnamon

3 Bananas, Mashed

2/3 Cup Agave Nectar

2 Egg Whites, lightly beaten

1/3 Cup Olive-Oil Based Margarine, melted

Pam Cooking Spray


Directions:


Preheat Oven to 375 degrees F. Spray 10 muffins cups with Pam or line with muffin papers, or if you're like me - do both.

In a large bowl, mix together the bananas, agave nectar, egg whites, and butter. In another bowl, mix flour, baking soda, cinnamon, and sea salt.

Slowly add flour mixture to the wet ingredients. Fold in until flour is moistened and ingredients are blended.

Spoon batter into prepared muffin cups, about half way.

Bake at 375 for 18 to 20 minutes, or until a toothpick inserted into the middle of a muffin comes out clean.

Allow muffins to cool, and enjoy!
What are some of your favorite breakfast recipes and go-to foods?