The smell of this dinner will have you drooling all day.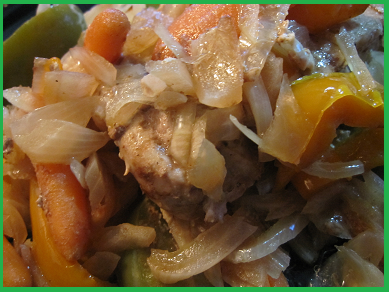 Every once in a while I have to throw some meat into my diet aside from chicken and fish. The fiance truly appreciates those nights, and I like him better when he's happy - and full! This
super
easy Crockpot recipe is prepared in mere minutes and simmers all day, making for a delicious and easy dinner. The best part is you can play with the seasonings and veggies to your taste and what's in season.
Serving Size: 2

Ingredients:


2 Lean Boneless Pork Chops

1 Red Bell Pepper, julienned

1 Green Bell Pepper, julienned

1/2 White Onion, coarsely chopped

1 Cup Baby Carrots

Extra Virgin Olive Oil

Balsamic Vinegar

Salt & Fresh Ground Pepper


Directions:


If possible, marinate pork chops with pepper, olive oil, and balsamic vinegar in a zip-lock bag. In a separate bag, do the same with the peppers and carrots.

Assemble half of the carrots, peppers, and onions on the bottom of the Crockpot.

Place marinated pork chops atop the bed of veggies.

Cover pork chops with remaining vegetables.

Cook on high for 6 hours, depending on your slow cooker. Pork chops should reach 160 degrees F.

Serve with brown rice or quinoa and ENJOY!

Happy eating!